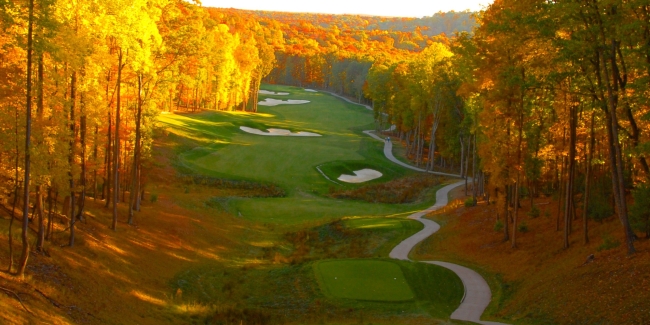 Wild and Wonderful West Virginia
The Greenbrier Resort is only the beginning in this Golf-Centric State
By Glen Turk
It doesn't take long to realize that West Virginia is home to impressive people and places. The airport in the capitol city of Charleston is named after Chuck Yeager, a West Virginian who broke the sound barrier. Travel 30 miles in any direction and it's a safe bet you'll see a sign touting basketball legend Jerry West, whose silhouette is used for the NBA logo.

In terms of places, I was fortunate enough to play the top five golf courses in the Mountaineer State and we're pleased to say the state of the game has never been better. Below is a recap of a five day whirlwind trip around a 200 mile radius from Charleston.


Glade Springs Resort- Daniels, WV
Our first stop took us to Glade Springs Resort, home to two of the top five tracks in the state. The only reason their Woodhaven Course isn't in the top 5 is it's too new to be ranked. The original Cobb Course harkens back to the parkland golf days of the mid-70's and features rolling hills, mature trees, and abundant water features throughout. The 420 yard par-4 16th is one of the few holes that a player needs to execute two consecutive shots over water to an elevated green.
The success of the resort and the subsequent increased demand for golf resulted in the addition of the Stonehaven Course (2003), and the Woodhaven Course (2010). The Stonehaven Course is built on a spectacular mountain venue that boasts 30 mile views throughout and immaculate conditions. The 601 yard par-5 16th hole plays at least three clubs downhill off the tee and offers one of the best views east of the Mississippi.
Head Professional Mike James, a Wisconsin native who was sporting a sweet pair of Wisconsin Badger FootJoy shoes when we met him, discusses what makes Glade Springs Resort the ultimate getaway. "From my perspective, when I travel with group of friends and members, it is extremely appealing (and convenient) to have variety," explained James. If you ask the question to Pinehurst why they have so many courses, they may say that they need more holes to accommodate their golfers. While this may be true in part, I believe they also need to give their customers variety. The top resorts in the nation provide multiple courses that provide a variety of challenges and characteristics to keep players interested. I believe we provide that at Glade Springs," stated James.
The non-golf highlight of our visit was getting a tour of Glade Spring's state-of-the-art fitness center and spa that happens to also house a movie theater and regulation basketball court. I usually expect to be humiliated in only one sport on these trips, but I got twice the rejection in this case. Finally, it's important to note that Glade Springs is not only a guest resort, but a full-service community that features one palatial estate after another that creates a thriving mini-city. For more information on Glade Springs Resort including their amazing Stay and Play packages, visit
www.gladesprings.com
or call (855) 802-3080.
Greenbrier Resort, White Sulphur Springs, WV
The Greenbrier Resort is not called "America's Resort" just as a simple catch phrase. It's America's Resort because it has oozed classic grandeur and world class hospitality for over 200 years. And to think if not for West Virginia business mogul Jim Justice rescuing the resort from certain foreclosure in 2009, The Greenbrier Resort might have been another tragic case of the bulldozing of America.
If you're a golf aficionado you'll be interested to know that the Greenbrier is the only resort in America to have hosted both the Ryder and Solheim Cups and both Sam Snead and Tom Watson have been appointed golf professional emeritus. If you're a history buff you'll be enthralled with the myth-turning-into-fact-story of a Cold War military bunker cleverly hidden in the West Virginia Wing. The two-hour tour is a bucket list must, even if you've seen the History Channel.
And if that wasn't enough, the 1914 C.B. McDonald TPC Old White Course has hosted the PGA Tour Greenbrier Classic since 2010. In the tournament's inaugural year, Stuart Appleby became only the 5th player in history to shoot 59 during his stunning come-from-behind victory. Old White may be the patriarch of courses, but Greenbrier is also home to two other outstanding tracks. The Greenbrier Course, originally designed by Seth Raynor in 1924 was redone by Jack Nicklaus in 1977, could also host a Tour event and The Meadows Course is a Dick Wilson/Bobby Cupp design that was dramatically upgraded in 1999.
The greatest compliment MGM can give The Greenbrier Resort is that boredom will never be an option thanks to the bevy of activities one can enjoy. "The Greenbrier offers a wide variety of amenities from the traditional, such as golf, tennis and swimming, to the unique such as our Cold War era bunker tours, our elegant, underground Casino Club and live musical performances by our very own Greenbrier Entertainers," stated Director of Sales Lynn Swann. "Here, guests can enjoy exhilarating activities like kayaking, off-road driving and falconry, or relax in our Spa, enjoy afternoon tea or walk along our Meditation Trail. Our Presidents' Cottage Museum and historical tours offer glimpses into our rich and interesting history, which follows the history of our country," concluded the stunt double of the Pro Football Hall of Famer by the same name.
I have been fortunate enough to travel the nation in search of distinctive golf destinations the past 10 years, and without question there is only one Greenbrier Resort. For more information on The Greenbrier Resort, visit
www.greenbrier.com
or call (855) 453-4858.
The Raven Golf Club at Snowshoe Mountain Resort
Golf does not get more exhilarating than when it's played 3500 feet above sea level amidst an eye-popping kaleidoscope of autumnal colors. West Virginia's most popular ski resort was begging for snow in the beginning of October, but during the last week of September The Raven Golf Club was begging for fairways hit and birdies made. "Snowshoe Mountain is one of the prettiest places to be in the autumn with or without golf," stated Gordon McHugh, The Raven's Director of Golf. "Recently a golfer told me 'this golf course is as pretty looking back on the hole as it is looking forward.' Seeing as most golf course architects want the player to look forward, this comment really resonated with me. The autumn mountain vistas seem to surround you all the way through your round. It can be quite distracting at times," laughed McHugh.
The 7045 yard, par 72 Gary Player design is mountain golf at its finest. Each hole is set in its own wooded area with no parallel fairways that creates a sense that's it's just you and the course. The Raven features two of the finest risk/reward holes in the nation, including the 548 yard, par-5 13th. The green is protected by a huge stand of pine trees with just enough of an opening that makes you want to go for broke. The 433 yard par-4 4th is highlighted by a 200 foot elevation drop from tee to green and the potential of hitting your drive close to 350 yards thanks to the thin mountain air. I recommend heading to
http://www.snowshoemtn.com/golf
and doing a flyby of the golf course online. Our guess is your next stop with be to one of those fancy travel websites to find the best deal on a flight to West Virginia!
Stonewall Resort, Roanoke, WV
Stonewall Resort is not your typical state park. How many other state parks can boast of having the state's top golf course according to Golf Week Magazine. The 1900 acre resort was built with a combination of public and private funds and serves as a very forward-thinking business model. "Lots of visitors to the resort/state park (not just the golf course) are surprised by the quality of the facility in comparison to other state parks that they have visited," stated Randy Hernly, Stonewall's Director of Golf. "In addition, we are surrounded by other high end facilities (The Greenbrier, The Homestead) that our golf course can compete with due to the planning that went into the original design and land use at the time the entire project was put in place."
Randy is 100% correct about the signature Arnold Palmer design, as it's an isolationist's dream. The King did an amazing job of letting the land dictate tee and green locations on the 7149 yard, par 72 layout. The par-5's are phenomenal, including the 12th and 18th holes that both demand uphill approach shots to cleverly guarded putting surfaces. With green fees never exceeding $100, Stonewall Resort has positioned themselves for full tee sheets. Their Golf, Lunch, and More package for $125 on weekdays and $145 on weekends includes 18, lunch, and a replay round afterward - now that's an MGM approved deal for sure! For more information on Stonewall Resort, visit
www.stonewallresort.com
or call (304) 269-8885.
West Virginians are a proud, hospitable people, especially when it comes to their top five golf properties in the Mountaineer State. And when it's all said and done, it's the people and the places that make West Virginia distinctive. For more information on all that West Virginia has to offer, visit
www.wvtourism.com
or call 1-800-225-5982.
Revised: 05/17/2012 - Article Viewed 33,529 Times
About: Glen Turk
---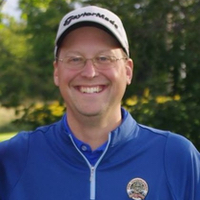 Glen Turk is a Wisconsin native and is the Senior Writer/Editor of Midwest Golfing Magazine. Midwest Golfing Magazine was formerly known as Pub-Links Golfer's Magazine and is a free publication distributed four times per year throughout Wisconsin, Illinois, Michigan, Minnesota, Iowa, Indiana, and Ohio.

His duties at MGM include writing course features, facilitating product testing, and overseeing the overall content and look of the magazine. But clearly his most important task is playing as much golf as his wife allows. Fortunately for him, she plays also and loves out-driving him even with a 60 yard head start.

Glen plays to a 6 handicap but once set a record by having his ball retriever regripped 15 times in one calendar year. It was a December trip to Guam that ultimately did him in. Finally, if you haven't caught on by now, the two most worthy weapons in Glen's writing arsenal are self-deprecating humor and pithy one-liners.

My signature line, "Be A Force on The Course" and now more recently, "Hit 'Em Where They Mow!" can be reused at no charge.

---
More Articles by Glen Turk
More Related Articles